Gardens by the Bay Price
Gardens by the Bay Price. Gardens by the Bay Opening Hours
Gardens by the Bay is a nature park in the heart of Singapore built on a 101-hectare reclaimed land. It has 2 conservatories with its own distinct plants, gardens and attractions: Flower Dome & Cloud Forest
---
Flower Dome
Gardens by the Bay Flower Dome is the world's largest column-less glasshouse. At 1.2 hectares, Flower Dome reproduces a mild & dry climate and displays plants from South America, South Africa and the Mediterranean.
---
Cloud Forest
At 0.8 hectares, Gardens by the Bay Cloud Forest recreates the cool & moist conditions in the high mountainous regions of South East Asia and South America. It has the unique 42-meter 'Cloud Mountain'.
---
Gardens by the Bay Ticket Pricing:
Adult Rp. 244.000, with Ferry Rp. 524.000
Child Rp. 170.000, with Ferry Rp. 450.000
* Price Includes admission to both Flower Dome and Cloud Forest
* Price excludes OCBC Skyway
Gardens by the Bay Ticket Details:
Child ticket: Age 3-12
Children aged 0-2 can enter free of charge
Upcoming closure dates for Flower Dome in 2018: 10 July, 28 Aug, 25 Sep, 30 Oct, 27 Nov, 18 Dec
Upcoming closure dates for Cloud Forest in 2018: 9 July, 27 Aug, 24 Sep, 28 Oct, 26 Nov, 17 Dec
Admission to the Supertree Grove is free (excluding OCBC Skyway bridge)
Gardens by the Bay Opening Hours:
9:00am-9:00pm, daily
Last admission time: 8:00pm
Getting to Gardens by the Bay:
From Bayfront MRT (CE1/DT16).
Take Exit BFollow the underground linkway, exit and cross the Dragonfly Bridge or Meadow Bridge into Gardens by the Bay
From Tanjong Pagar MRT (EW15).
Take Exit C. Head to International Plaza, Anson Road to bus stop 03223. Take bus 400 and alight at bus stop 03371 along Marina Gardens Drive
From Marina Bay Sands Hotel.
Cross the overhead Lions Bridge (open daily from 8:00am-11:00pm). Alternatively, walk through underground linkway via Bayfront MRT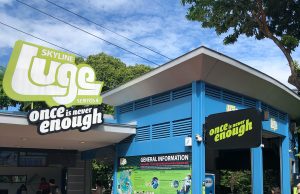 Sentosa Skyline Luge
The Luge is a half-go kart, half-toboggan ride down a descending track in Sentosa. Riders can control the ride by pulling the handlebars to brake or pushing them to accelerate. You can try out the 688-meter Dragon Trail or 628-meter Jungle Trail. You'll also get to try the Skyride where you can get a bird…