Travel Agent Batam
Outbound Batam Travel Agency
Latest Promotion
Batam Travel Fair 2019 (7-9 September 2019)
Batam Travel Agency
Batam Outbound Agent. Batam Inbound Operator.
Founded in 1995, we have been an outbound batam travel agency and inbound batam operator for more than 23 years.
For our inbound travel business, we have served thousands of Indonesian customers who are coming into Batam from other Indonesian cities. In addition, we are also handling international tourists who are coming to Batam from Singapore.
As an established outbound Batam travel agency, we help locals to plan and arrange their overseas travel to Singapore, Malaysia, Thailand, China, Japan, South Korea, Taiwan, Australia, Hong Kong, Europe and beyond.
We are very fortunate and grateful to have our customers' support in helping us to be one of the top Batam travel agency.
Batam Bus Rental
Biggest Bus Rental Company in Batam
We are proud to be the biggest bus rental company in Batam with more than 70 vehicles in our fleet. We have 50-seater buses, 45-seater buses, 40-seater buses, 24-seater coaster buses, 14-seater minivans, Alphards and Toyota Wishes.
Our vehicle rental with driver covers: one-way transfer, half-day use (4 hours) and full-day (8 hours) use.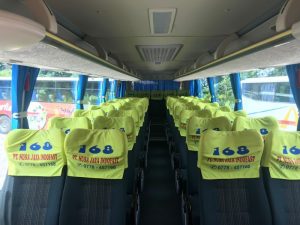 Batam Bus Rental
If you're travelling in Batam with a large number of people in your group, a Batam bus rental is your solution. We are the biggest supplier of buses in Batam, with a fleet of more than 70 vehicles (buses, coaster buses, minivans, cars) Whether you want to charter bus in batam for a point-to-point transportation,…
Singapore Tours
Tours to Singapore, Malaysia and Thailand
As Singapore is the nearest international hub from Batam, most of our outbound tours include Singapore or start from Singapore.
Singapore Attraction Tickets
Cheapest and Best Value Singapore Attraction Tickets
We offer a complete selection of Singapore attraction tickets, with and without 2-way ferry tickets:
Universal Studios Singapore, Gardens by the Bay, Adventure Cove Waterpark, S.E.A Aquarium, Singapore Night Safari, Singapore Zoo, Singapore River Safari, Singapore Cable Car, Kidzania, Wings of Time, Trick Eye Museum, Singapore River Cruise, Legoland and more.
Cruise
Costa Cruise. Genting Dream Cruise. Princess Cruise. Royal Caribbean Cruise.
Check out our most popular cruise packages that depart from Singapore: